Beebread
HEALTHY BEES, WELL NUTRITION
Although Turkey is among the most important countries in the world in terms of colony presence and total honey production, honey production per colony in our country is well below the desired level. There are various factors affecting productivity in beekeeping. Among these, factors such as race selection, climate and vegetation, care, nutrition and bee health play an important role. The biggest share in increasing productivity depends on beekeeper and beekeeper's application methods. Beekeeper must know bee and biological demands of the bee very well and meet its requests.
Purpose of beekeeping activities is to get maximum income with minimum cost as in all production branches. In order to achieve this goal, beekeepers must have strong and healthy colonies always. Konya Şeker Sanayi ve Ticaret A.Ş. (Konya Sugar Industry and Trade Inc.) established Turkey's first, Europe's most modern liquid sugar plant within the structure of Çumra Sugar Factory. Çumra Sugar Factory is the richest and the most comprehensive sugar factory of our country in terms of product variety. With the aim of improving beekeeping in our country, Turkey's first liquid bee feed which is produced by being pasteurized from beet sugar, was put into service of our beekeepers in 27.12.2006 with the permission of Feed Production License Number 1522 given by Ministry of Agriculture, General Directorate for Protection and Control.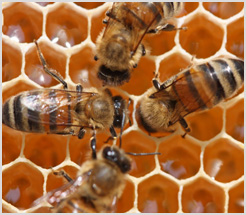 BEE NUTRITION
Colonies need nutrition during certain periods of the year in order to be healthy and able to produce products in sufficient quantities. However, the amount and duration of this nutrition may affect the quality of honey. It is possible to get high yield from colonies and to produce high quality honey with regular and continuous nutrition which begin in early spring and continue until prior to region's main nectar flow periods.
In technical beekeeping, nutrition program must be implemented during certain periods of the year (spring and fall) in order to give nutritional supplement to colonies suffering from food shortage, to enable some medicines and vitamins to be given to bees or to promote and accelerate incubation activity by encouraging queen to lay eggs. However, the amount and duration of spring nutrition may affect the quality of honey. For this reason, nutrition program must be completed at least 15 days before main nectar flow of the region.
There are some important basic principles of feeding colony. These are as follows;
Nutrition should usually be given during evening hours and syrup shouldn't be spilled around.

Instead of giving too much syrup to colony at once, little and frequent feeding should be done.

Hives shouldn't be kept open for a long time during feeding.
Feeds should be given in appropriate cups inside the hive, feeding shouldn't be done outside.
WHY PASTEURIZED LIQUID BEE FEED?
Although colonies can be fed in a number of ways such as especially honey, sugar syrup, dry sugar and cake, bees can take syrup consisting of fructose, glucose and sucrose more easily and can use it more efficiently when compared to syrup consisting of only sucrose.
Pasteurized bee feed produced by Konya Şeker Sanayi ve Ticaret A.Ş. in Çumra Sugar Factory;
Because inversion process is performed, it is preferred by bees more than other sugary feeds and it can be used more easily.
Because it is pasteurized, it doesn't have agent, doesn't crystallize, it doesn't get spoilt as a result of fermentation.
It makes handling and use easier for the buyer compared to sugar syrup preparation.
Incubation activities and reproduction are faster in the colony.
Bees don't spend so much energy because its use is easier and simpler.
It is more economical than other nutritions.
Green food dye was used in its content.
NUTRITIONAL VALUES OF PASTEURIZED BEE FEED PRODUCED FROM BEET SUGAR IN ÇUMRA ŞEKER
Sucrose %30-36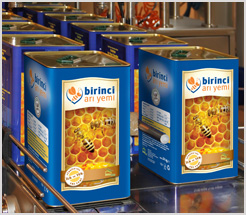 Glucose %27-30
Fructose %37-40
Dry Matter %72+-2
pH Value 4-6
Ash Content max. %0,1
HMF Value max. ppm. 40
Color Yeşil